Open Air Cinema at Tinside Lido
Tinside Lido
Hoe Rd
Plymouth
Devon
PL1 3DE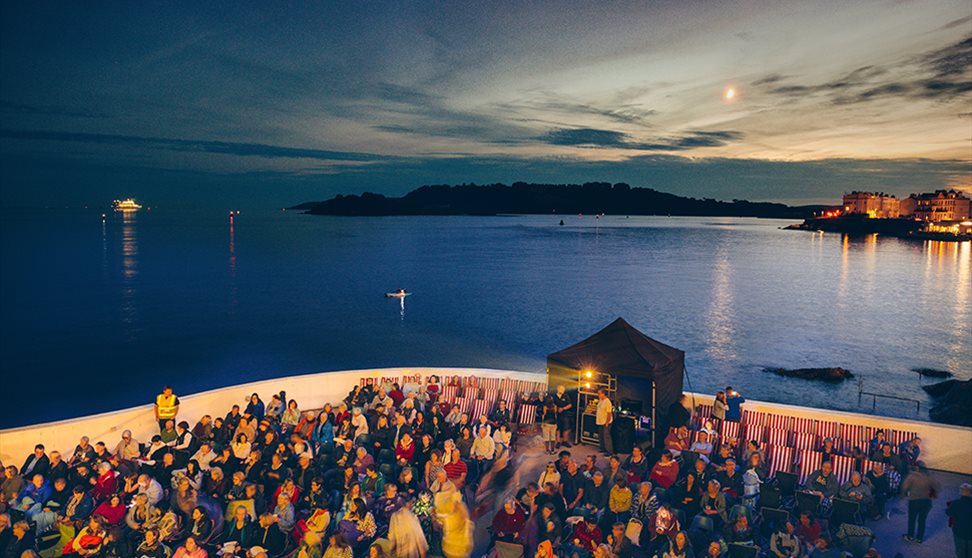 Prices
Standard tickets £10. We will provide chairs.
VIP tickets £18.50. Includes a chair and blanket in the VIP area, a packet of Portlebay popcorn and a drink.
About us
Watch films under the stars at Plymouth Arts Cinema's unique Open Air Cinema by the sea. Plymouth Arts Cinema has been taking its cinema on tour each summer for a sell-out series of events since 2012. The Independent recently featured this beloved feature as a Plymouth top Summer attraction for 2019.

We are back at Tinside for August Bank Holiday weekend with a selection of films which really will have something for everyone. Friday night chills will be delivered by classic shocker, Alien - 40 years old and still as terrifying. Saturday night is your chance to see audience favourite, Bohemian Rhapsody and we round off the weekend with the perfect film for the perfect location, Hitchcock's The Birds - hold on tight to your pasty!

On each night, doors and bar open from 8pm, film starts from 9.15pm.

Advance booking is strongly recommended as these events sell out. Tickets available from Plymouth Arts Cinema at www.plymouthartscentre.org or at our Box Office (Tavistock Place, PL4 8AT / 01752 206 114, open until 31 July Tue-Fri: 5-8.30pm, Sat: 1-8.30pm). Please note booking for Open Air Cinema events will be online only from 1 August until 6 September.

The programme:

Friday 23 August: Alien
In Tinside, no one can hear you scream! Ridley Scott's sci-fi masterpiece is 40 years old this year so we thought we would celebrate with a special open air screening to remind ourselves of just how atmospheric and terrifying this still is. Sigourney Weaver set the gold standard for strong women on screen with her portrayal of Ripley, one of the crew members of the space ship Nostromo which accidentally picks up an uninvited guest when exploring a distant planet…

Saturday 24 August: Bohemian Rhapsody
The first of our two summer screenings of the Oscar-winning Bohemian Rhapsody. Freddie Mercury defied stereotypes and shattered convention to become one of the most beloved entertainers on the planet. The film traces the meteoric rise of the band through their iconic songs and revolutionary sound. They reach unparalleled success, but in an unexpected turn Freddie, surrounded by darker influences, shuns Queen in pursuit of his solo career. Their reunion, just in time for Live Aid, set the concert on fire and remains one of the most electric performances ever.

Sunday 25 August: The Birds
What better place to watch a terrifying film about killer birds than right on the waterfront, surrounded by seagulls who want to steal your pasties?! The Hitchcock classic begins as an innocuous romantic triangle involving Melanie, Mitch and Annie and culminates at the home of Mitch's mother at Bodega Bay, where the characters' sense of security is slowly eroded by the curious behaviour of the birds in the area. At first, it's no more than a sea gull swooping down and pecking at Melanie's head…but once the onslaught begins, there's virtually no letup.
TripAdvisor