John Richardson's The Dark Room
Barbican Theatre
Castle Street
The Barbican
Plymouth
Devon
PL1 2NJ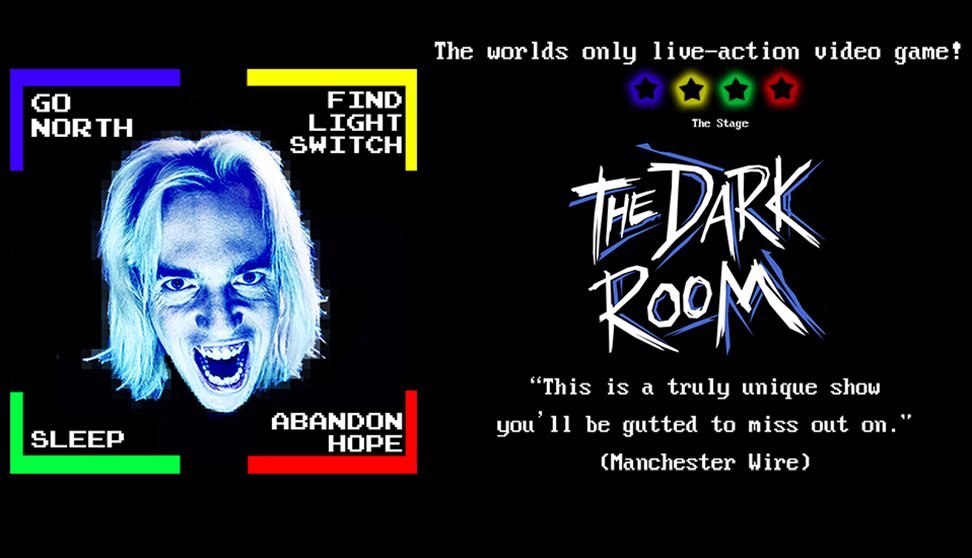 Prices
This is a Pay What You Decide event which means you choose what the show is worth to you!

You can decide what you would like to pay when you book by adding a donation to your booking, or you can pay after you have seen the show at Barbican Theatre.

Looking around at other events going on in the city, we estimate that 1 ticket to similar events would cost £12.

There is no 'right' answer, we are not attempting to lead you to a specific figure.
You can pay £0 for your ticket.
About us
You awake to find yourself in The Dark Room...

Welcome to the world's only live-action, text-based adventure game. It's strange, insane and addictive. It's a comedy night, a gameshow and a pantomime all in one.
How do you play? The audience is trapped in a retro videogame with a sadistic end-of-level boss.

Choose your options, survive the abuse simulator that is the improv comedy overlord John Robertson, and escape to win £1000 – or, be brutally murdered by the rest of the crowd!

Now, will you:
Find the Light Switch
Go North?
Abandon Hope?

Watch The Dark Room trailer: https://www.youtube.com/watch?v=gpAiW6uy_iY

*** About the show ****

This high-octane show is the brainchild of comedian & cult leader John Robertson. Filled with stand-up, appalling prizes and more audience chanting than you'd get at a protest – it's a gut-busting rock n' roll experience for everyone who buys a ticket.

John has performed The Dark Room to crowds of thousands at comedy and gaming festivals around the world including Insomnia Gaming Festival, London Film & ComicCon, Sci-Fi Weekender, Edinburgh Fringe Festival, FringeWorld Perth, Leeds International Festival, Sheffield Doc/Fest AND a monthly residency in London at the prestigious Soho Theatre.

Age guidance 18+.
Presented in partnership with The B-Bar

"Not to be missed" The Guardian

"The Dark Room is utterly unique, it's hard to describe the magic and joyful surprises awaiting you within without utterly scaring you off" The Skinny

"You must see this show" British Comedy Guide

"You have to see the Dark Room at least once in your life" The Scottish Sun

"Great fun, nostalgic, but also a fresh angle for comedy" Den of Geek

"Genuinely, irresistibly dangerous" The Stage

"If you like your comedy interactive, you'll be hard-pressed to find better than John Robertson" ThreeWeeks

*** Who is John Robertson? ***
John is a high-octane cult leader with wild eyes and a thunderous voice.
A stand-up, improviser and force of nature, he's the creator of the hit live-action videogame show "The Dark Room" (4,000,000 hits on YouTube, over 500 performances all around the world), he faked a seizure on reality TV, wrote the Puffin kids book "The Little Town of Marrowville" and wants you to know he loves you, but he's still going to yell at you. You can see him in theatres, clubs, gaming festivals, nerd events and rock shows.
Book Tickets
TripAdvisor