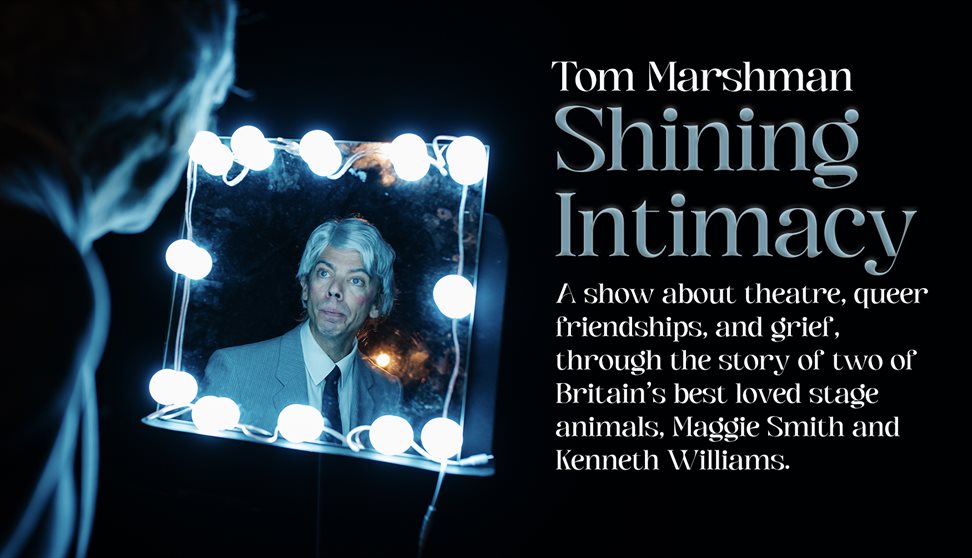 Prices
This is a Pay What You Decide event which means you choose what the show is worth to you! You can decide what you would like to pay now by adding a ticket with a value to your cart, or you can pay after you have seen the show at Barbican Theatre (cash or card).

Looking around at other events going on in the city, we estimate that 1 ticket to similar events would cost £12.

There is no 'right' answer, we are not attempting to lead you to a specific figure. You can pay this suggested amount, less than this or more than this. You can even pay £0 for your ticket.
About us
A show about theatre, queer friendships, and grief, through the story of two of Britain's best loved stage animals, Maggie Smith and Kenneth Williams, both on a journey together to master their craft.

The show explores the actor's craft and how the pair went about 'colouring in the words' throughout their 40 year friendship. Playing with the contract of the 'performer' in the public and in private, the show not only includes Kenneth's and Maggie's success, but a sensitive portrayal of issues such as depression, OCD, and the loneliness of Kenneth's one bedroom flat.

Through the use of projections, Tom examines their characters as apparitions within the theatre, and considers his own relationship with the late artist Clare Thornton. Their shining intimacy belongs to a particular moment in history, allowing narrator Tom to reflect on this close friendship of his own, now lost.

Television and radio interviews, newspaper articles, diaries, and memoirs, have created the backbone for this new work by Tom Marshman.

The show includes references to depression, mental health and suicide. Age guidance 14+