Quality of Life
Located at the heart of the South West, Plymouth is a city by the sea with so much to offer. With an amazing quality of life, stunning waterfront location, buzzing city centre and fascinating maritime history, there is quite simply nowhere better to live, work and play than Britain's Ocean City.
Plymouth is an ambitious city with huge growth potential and exciting major changes ahead. We have already seen the growth of the university, the redevelopment of Royal William Yard and Millbay, one of the UK's top 50 regeneration projects.
Over the next five years Plymouth will see an ambitious capital investment programme, driven by Plymouth City Council, with circa £100m each year to be invested into providing developments and infrastructure to support a thriving environment for businesses and residents.
For advice on relocating to Plymouth, we have created a brochure you are welcome to look through: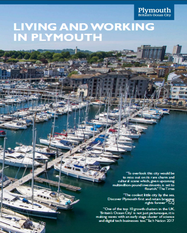 Plymouth is a great place to live and work, and we wanted to highlight this with a video.
Quality of Life videos
Don't just take our word for it, here are a collection of videos from people who have relocated to Plymouth to live and work.